Ilya Kovalchuk drops both gloves and Evgeny Orlov as he was called for a dance due to a goalie collision
ПОХОЖИЕ ВИДЕОРОЛИКИ
3 мес. назад
Ilya Kovalchuk vs Denis Mosalyov Slava Voynov vs Nikolai Kovalenko SKA vs Lokomotiv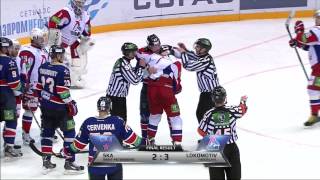 4 г. назад
26.03.2014, Сэнфорд не дает Ковальчуку вступиться за партнера, тот выбирает в качестве ответчика Холёса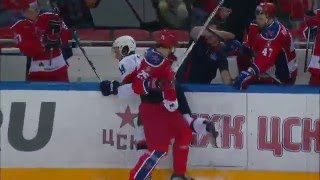 2 г. назад
Alex Radulov left the bench on the last seconds of the game becoming 6th for CSKA on the ice, would might have been suspended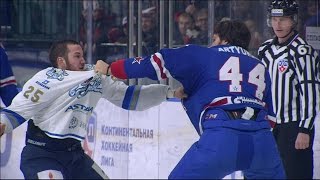 3 г. назад
19.11.2015. Андрей Назаров вернулся в Питер не с пустыми руками, а с Дамиром Рыспаевым в составе. Само собой, боя Артюхин-Рыспаев долго ждать не пришлось.
7 мес. назад
Purchase the best Soccer, Basketball and Football cases. http://sportzcases.com?aff=184 Use Promo Code: SportVines For 10% Off!! I Hope You Enjoyed This Sport Vines Compilation ! Please Like, Share and Subscribe !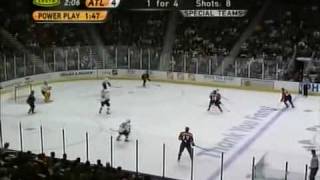 11 г. назад
Jan, 06, 2006.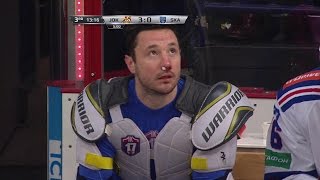 4 г. назад
20.11.2014. Капитан "Йокерита" неаккуратно действует клюшкой в средней зоне и разбивает нос питерскому коллеге. Нико Капанен за этот фол получает удаление до конца встречи, а Илья Ковальчук, сменив залитую кровью майку, возвращается в игру под свист "Хартвалл Арены".
8 мес. назад
Line brawls, Goalie brawls, or any brawls that all come together in one video. This video was requested by Ben Sackett If this video gets 10 lkes I may make a part 2! ------------------------------------------------------------------------------------ ►Follow up on Twitter: https://twitter.com/OvertimeGoals ►Become a patron: https://www.patreon.com/user/posts?ta... Comment your suggestions on what I should do next below! Put me up on your notifications and leave a like on this video! Subscribe for more compilations like this! ►All Clips belong to the National Hockey League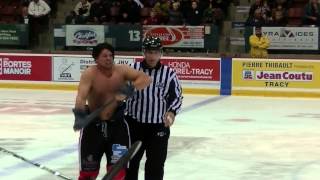 4 г. назад
Top 10 des Combats de l'année avec les Coudé, Laffy, Mirasty et compagnie! #10 Simon Poirier vs Boby Fugère #9 Jon Mirasty vs Francis Lessard #8 Maxime Charron vs Patrick Bernier #7 Yves Girard vs Patrick Bernier #6 Sébastien Laferrière vs Ryan Murphy #5 Guillaume Coudé vs Curtis Tidball #4 Sébastien Laferrière vs Alex Penner #3 Jon Mirasty vs Alex Penner #2 Jon Mirasty vs Gaby Roch #1 Jon Mirasty vs Joël Thériault
6 г. назад
NHL stars Alexander Ovechkin, Ilya Kovalchuk and Evgeny Malkin all scored for their respective KHL sides during week 10.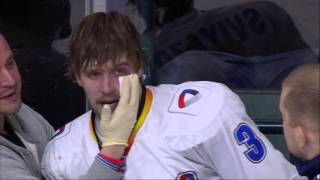 2 г. назад
Slava Voynov chooses Kirill Sviyazov as a dance partner tonight at Petersburg Ice Palace.
5 г. назад
Ilya Kovalchuk and Leo Komarov fight as KHL leaders SKA thrash champions Dynamo 6-2, in Moscow.