ПОХОЖИЕ ВИДЕОРОЛИКИ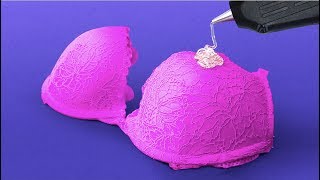 11 мес. назад
Subscribe to 5-Minute Crafts: https://www.goo.gl/8JVmuC  For copyright matters please contact us at: welcome@brightside.me ---------------------------------------------------------------------------------------- Our Social Media: Facebook: https://www.facebook.com/5min.crafts/ Instagram: https://www.instagram.com/5.min.crafts/ The Bright Side of Youtube: https://goo.gl/rQTJZz ---------------------------------------------------------------------------------------- For more videos and articles visit: http://www.brightside.me/ Music: 1. Kat and Tanner by Twin Musicom is licensed under a Creative Commons Attribution licence (https://creativecommons.org/licenses/by/4.0/) Artist: http://www.twinmusicom.org/ 2. Opheliea's Blues by Audionautix is licensed under a Creative Commons Attribution licence (https://creativecommons.org/licenses/by/4.0/) Artist: http://audionautix.com/ 3. Sailors Lament by Audionautix is licensed under a Creative Commons Attribution licence (https://creativecommons.org/licenses/by/4.0/) Artist: http://audionautix.com/ 4. Straighty Baby by Audionautix is licensed under a Creative Commons Attribution licence (https://creativecommons.org/licenses/by/4.0/) Artist: http://audionautix.com/ 5. Wheels by Audionautix is licensed under a Creative Commons Attribution licence (https://creativecommons.org/licenses/by/4.0/) Artist: http://audionautix.com/ 6. Thingamajig by Audionautix is licensed under a Creative Commons Attribution licence (https://creativecommons.org/licenses/by/4.0/) Artist: http://audionautix.com/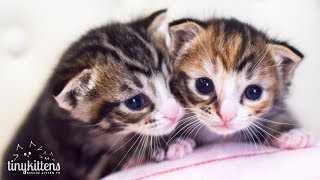 2 нед. назад
Our rescue work: http://tinykittens.com Get updates on facebook: http://fb.com/tinykittens Our VIP livestream: http://vip.tinykittens.com Donate: http://tinykittens.com/donate Princess Consuela was pregnant and scared when she was rescued from the back of a BMW at an auto body shop. She would have died trying to give birth if she was alone when she went into labor, because her first kitten had fatal congenital defects + anasarca that made it impossible for her to pass through the birth canal. Thankfully, we saw that Princess Consuela needed help and were able to get her to Animal Emergency Clinic of the Fraser Valley for an emergency c-section that saved her life, and the lives of three of her four kittens. It is important that we tell her story, because she shows us how important it is to spay and neuter. Kittens were named by the ER staff and our viewers: Mercedes (stillborn), Tesla (tortie girl), Bentley (tabby boy), Allie (Calliby girl). Spaying and neutering is the only way to prevent the tragedies like this that are happening every day. We rescue as many as we can, but there just aren't enough resources to rescue every cat and kitten in need. You can help by becoming advocates for spay/neuter, supporting your local Trap-Neuter-Return (TNR) efforts, signing up to be a foster parent at your local shelter and supporting rescue efforts that believe every life is worth saving. Princess Consuela's story will continue to unfold live and uncensored from now until she and her kittens are spayed/neutered and adopted into loving homes. UPDATE JULY 18: We are very sorry to report that as feared, Tesla had a severe congenital heart defect and was beginning to go into heart failure. We made the decision to say goodbye to her at Mountain View to ensure she did not suffer. We did rads and an ultrasound to be sure there was nothing else we could do for her. We hope you will find comfort knowing she lived her very best life possible, surrounded by love and comfort, and that she did not have to suffer at the end. We have no doubt she is frolicking with her sister Mercedes now. This is the tragic reality of cat overpopulation. You can prevent so much suffering by becoming advocates for spaying and neutering, and supporting Trap-Neuter-Return (TNR). Rads are posted at TinyTapeworms if you would like to see Tesla's heart, compared to Bentley's heart. For peace of mind, we checked Bentley and Allie, and both of their hearts appear normal. Weight chart: http://bit.ly/2uoBT3V More about our rescue work: http://TinyKittens.com To adopt: http://TinyKittens.com/adopt Facebook: https://www.facebook.com/tinykittens Twitter: http://twitter.com/tinykittensHQ Instagram: http://Instagram.com/tinykittensHQ Weight Chart: TBD Ways to Help: http://TinyKittens.com/help Our VIP stream: https://vip.tinykittens.com The Official TinyKittens Shop: http://TinyKittens.com/shop GUIDE FOR PEACEFUL COEXISTENCE: Be polite. Give each other the benefit of the doubt before taking offense. Don't curse, don't ask for subscriptions, don't ask personal questions, don't spam (including roll call requests & spamming emojis). No block caps. Thanks! OUR MODS ARE VOLUNTEERS AND THEY ARE TRYING TO HELP, PLEASE TREAT THEM ACCORDINGLY! Harassing a moderator in chat is grounds for a timeout or ban at the moderator's discretion. Harassing a moderator outside of chat is grounds for banning and the sharing of your info to other cams for them to ban you as well. UNCENSORED RESCUE REALITY This is uncensored rescue reality TV. We give the best care possible 24/7, but we don't know what will happen next. We livestream everything to raise awareness about the realities of cat overpopulation. CONCERNING TROLLS: Ignore them. That's what they hate the most. Their goal is to upset you so you yell at them. They think this is funny. Thank mew so much to everyone who is watching!
1 нед. назад
All Power Rangers Instant Morphs (Instamorphs) in Power Rangers Samurai and Power Rangers Super Samurai, including Clash of the Red Rangers Movie. The Power Rangers morph into action in their fights against Master Xandred's Nighlok monsters. Gold Ranger and RPM Red Ranger joins the battles. Cast: Alex Heartman (Jayden / Red Ranger), Najee De-Tiege (Kevin / Blue Ranger), Hector David Jr (Mike / Green Ranger), Erika Fong (Mia / Pink Ranger), Brittany Anne Pirtle (Yellow Ranger), and Steven Skyler (Antonio / Gold Ranger). These scenes are from Power Rangers Samurai Episodes 1-22. . All-new episodes of Power Rangers Super Ninja Steel return in the Fall on Nickelodeon. Power Rangers Beast Morphers (Hasbro) premieres in 2019. Like (Thumbs Up) and share this video with your friends. For the latest #PowerRangers and #Superheroes videos, subscribe today! http://youtube.com/neosabanpowerrangers?sub_confirmation=1 http://youtube.com/legendarypowerrangers?sub_confirmation=1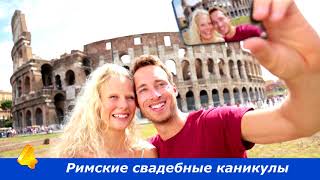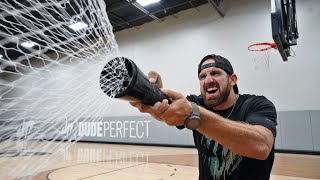 4 дн. назад
Things get a little weird on this episode of Overtime! ► Click HERE to subscribe to Dude Perfect! http://bit.ly/SubDudePerfect ► Click HERE to watch our most recent videos! http://bit.ly/NewestDudePerfectVideos http://bit.ly/NewestDPVideos ► SHOP our NEW Merchandise! - http://bit.ly/DPStore ►Click HERE to join the exclusive Dude Perfect T-Shirt Club! http://bit.ly/DPTShirtClub Play our NEW iPhone game! ► PLAY Endless Ducker on iPhone -- http://smarturl.it/EndlessDucker ► PLAY Endless Ducker on Android -- http://smarturl.it/EndlessDucker ► VISIT our NEW STORE - http://bit.ly/DPStore ► JOIN our NEWSLETTER - http://bit.ly/DPNewsletterEndCard ► WATCH our STEREOTYPES - http://bit.ly/StereotypesPlaylist In between videos we hang out with you guys on Instagram, Snapchat, Twitter, and Facebook so pick your favorite one and hang with us there too! http://Instagram.com/DudePerfect http://bit.ly/DudePerfectSnapchat http://Twitter.com/DudePerfect http://Facebook.com/DudePerfect Do you have a GO BIG mindset? See for yourself in our book "Go Big." ►http://amzn.to/OYdZ2s A special thanks to those of you who play our iPhone Games and read our book. You guys are amazing and all the great things you tell us about the game and the book make those projects so worthwhile for us! Dude Perfect GAME - http://smarturl.it/DPGameiPhone Dude Perfect BOOK - "Go Big" - http://amzn.to/OYdZ2s Click here if you want to learn more about Dude Perfect: http://www.dudeperfect.com/blog-2/ Bonus points if you're still reading this! Comment: That episode was the GOAT! As always...Go Big and God Bless! - Your friends at Dude Perfect Business or Media, please contact us at: Dude@DudePerfect.com ------------ 5 Best Friends and a Panda. If you like Sports + Comedy, come join the Dude Perfect team! Best known for trick shots, stereotypes, battles, bottle flips, ping pong shots and all around competitive fun, Dude Perfect prides ourselves in making the absolute best family-friendly entertainment possible! Welcome to the crew! Pound it. Noggin. - Dude Perfect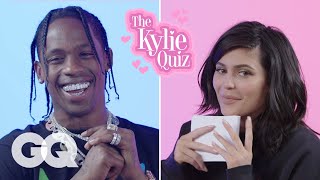 4 дн. назад
It's the Kylie Quiz, in which Kylie Jenner grills her boyfriend Travis Scott all about herself, their daughter Stormi, and the Jenner-Kardashian clan. Can Travis get all 23 of Kylie's questions right? Check out Kylie and Travis' GQ cover story here: gq.com/kylieandtravis Still haven't subscribed to GQ on YouTube? ►► http://bit.ly/2iij5wt ABOUT GQ For more than 50 years, GQ has been the premier men's magazine, providing definitive coverage of style, culture, politics and more. In that tradition, GQ's video channel covers every part of a man's life, from entertainment and sports to fashion and grooming advice. So join celebrities from 2 Chainz, Stephen Curry and Channing Tatum to Amy Schumer, Kendall Jenner and Kate Upton for a look at the best in pop culture. Welcome to the modern man's guide to style advice, dating tips, celebrity videos, music, sports and more. https://www.youtube.com/user/GQVideos Kylie Jenner Asks Travis Scott 23 Questions | GQ
3 нед. назад
Xem nhiều hơn tại đây nhé các bé:https://goo.gl/jpbRbg Dạy Bé Học Nói Con Vật - Các Con Vật Cho Bé Học Tên Và Tiếng Kêu Và Hình Ảnh Hay Nhất Dạy các màu sắc, con số...cho bé Bé giỏi bé ngoan, mẹ dạy bé mà lại nhàn. Các video động vật giúp bé phát triển tư duy vượt trội hơn. Còn chờ gì nữa!!! ♥ NHANH TAY ĐĂNG KÝ KÊNH ĐỂ XEM NHIỀU HƠN https://goo.gl/KXcs2J ➤Con sẽ không thể biết nói nhanh nếu như ba mẹ chỉ áp dụng những cách truyền thống. ➤Vì vậy, mỗi ngày ba mẹ hãy cố gắng dành ra khoảng 30 phút cùng bé học nói qua các video con vật, đồ vật... ➤Nếu ngày nào cũng lặp đi lặp lại như vậy, tư duy và phản xạ về ngôn ngữ của bé sẽ phát triển nhanh chóng Học Mà Chơi là kênh giáo dục online cho các bé trong độ tuổi từ 2-5 tuổi, chủ đề đa dạng xoay quanh việc giúp bé nhận thức thế giới xung quanh mình, đặc biệt là các con vật, đồ vật... Với những hình ảnh chân thật. Chúng tôi sẵn sàng lắng nghe và luôn muốn mang tới cho bạn những sản phẩm tốt nhất. Hãy để lại nhận xét của bạn về những gì bạn đang quan tâm, chúng tôi sẽ giúp bạn. ----------------------------------------­-★★★★★----------------------------------­------- Lưu ý: Học Mà Chơi không sở hữu tất cả tư liệu được sử dụng trong video này. We do NOT own all the materials as well as footages used in this video.